THE PRESENTATION ON THE "ESTABLISHMENT OF RECTORS' CONFERENCE IN AZERBAIJAN" PROJECT WAS HELD AT "NAKHCHIVAN" UNIVERSITY
The opening event at Nakhchivan University, Nurlana Aliyeva, rector of the University, the associated professor stated that Nakhchivan University is the only partner from Nakhchivan of the "ECAR" project, the "Rectors' Conference in Azerbaijan", the winner of the grant competition "Capacity Building in Higher Education", coordinated by Baku Business University.
The Rector spoke about the importance of accelerating the integration of higher education in Azerbaijan into the European higher education area, increasing the effectiveness of cooperation, networking, and communication between higher education institutions and other interested partners, and expanding the international relations of higher education institutions, and more actively involving universities in international programs.
Rajab Jafarli, the head of the university's international relations department, gave detailed information about the project.
He spoke about the project's purpose, partners, and budget. At the event, the importance of the project was noted in terms of creating joint programs between students and management and forming a national network to facilitate increased mobility.
The questions that interested the participants were clarified at the end of the event.
"Azərbaycanda Rektorlar Konfransının Yaradılması" layihəsinin "Naxçıvan" Universitetində təqdimatı keçirilib.
"Naxçıvan" Universitetində keçirilən tədbiri giriş sözü ilə açan universitetin rektoru, dosent Nurlana Əliyeva bildirib ki, ali təhsil müəssisəsi Avropa Komissiyasının Erasmus + proqramı çərçivəsində ali təhsildə potensialın gücləndirilməsi profili üzrə qrant müsabiqənin qalibi, "Azərbaycanda rektorlar konfransı"nın layihəsi olan ECAR layihəsinin Naxçıvanda yeganə tərəfdaşıdır.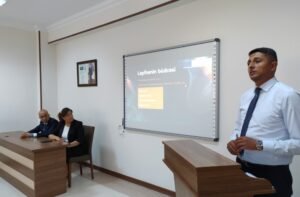 Rektor  Azərbaycanda ali təhsilin Avropa ali təhsil məkanına inteqrasiyasının sürətləndirilməsi, ali təhsil müəssisələri və digər maraqlı tərəfdaşlar arasında əməkdaşlıq, şəbəkə, ünsiyyət səviyyəsinin effektivliyinin artırılması, ali təhsil müəssisələrinin beynəlxalq əlaqələrinin genişləndirilməsi və universitetlərin beynəlxalq proqramlara daha fəal cəlb olunmasının əhəmiyyətindən danışıb.
Universitetin Beynəlxalq əlaqələr şöbəsinin müdiri Rəcəb Cəfərli layihə haqqında ətraflı məlumat verib. Layihənin məqsədi, tərəfdaşları, büdcəsi barədə danışıb. Tədbirdə tələbələr və rəhbərlik arasında ortaq proqramlar yaratmaq, artan mobilliyi asanlaşdırmağı hədəfləyən milli şəbəkənin formalaşdırmaq baxımından layihənin əhəmiyyəti qeyd olunub.
Tədbirin sonunda iştirakçıları maraqlandıran suallara aydınlıq gətirilib.