THE TRAINING WITHIN THE FRAMEWORK OF ERASMUS + PROJECT "ESTANLISHING OF RECTORS' CONFERENCE IN AZERBAIJAN" (ECAR) COORDINATED BAKU BUSINESS UNIVERISTY WAS HELD AT BAKU ENGINEERING UNIVERSITY
The next training of the Erasmus + project Creation of the Conference of Rectors in Azerbaijan (ECAR) in partnership with the University of Azerbaijan held at the Baku Engineering University (BMU). The training was attended – by representatives of the Ministry of Education and 16 partner universities.
In his opening speech at the event, the host of the event rector of BMU, prof. Havar Mammadov expressed his satisfaction to see the guests at the university. He said that the project goal was to improve the higher education quality in Azerbaijan and coordinate the activities of university rectors to integrate into the European education system. The rector expressed confidence that the project will help identify new cooperation formats between local and European universities, emphasizing its international significance and contribution to the development of higher education institutions. Havar Mammadov added that the Rectors conference creates a basis for the presentation of Azerbaijani universities in the international arena.
The project coordinator, Rector of Baku Business University, Professor Ibad Abbasov, stressed the importance of the national network, and cooperation between the universities and other partner organizations through the Rectors conference. He spoke about the work done to establish Azerbaijan using foreign experience.
Nijat Mammadli, an adviser to the Minister of Education stressed all the work done under the project will be a major support to the internationalization of educational programs of local universities and increase the competitiveness of universities.
Jeff King, Executive Director of the Center for Transformational Teaching and Learning at the University of Central Oklahoma, who attended the event online, delivered a presentation on "Transformative Teaching and Learning". He said it is necessary to look for new methods because of the notable changes that have taken place in society, the student body, and the academy over the last ten years. He said that the main issue in this process is the transformative teaching methods in learning. Speaking on transformative teaching and learning, Jeff King says that the teaching had been based on giving information, and how students learned and used information was essential.
Then, the training on "Change Management – Transforming Teaching and Learning" was conducted by Olgun Cicek, Vice President of the Central and Eastern European Network of Quality Assurance Agencies in Higher Education (CEENQA). During the training, detailed information was provided on the requirements of quality assurance in higher education, internationalization of educational programs, quality assurance in curricula, international accreditation and its future prospects, modular accreditation, and extensive discussions were held on these issues.
BAKI BİZNES UNİVERSİTETİNİN KOORDİNATORU OLDUĞU "AZƏRBAYCANDA REKTORLAR KONFRANSININ YARADILMASI" (ECAR) ADLI ERASMUS+ LAYİHƏSİ ÇƏRÇİVƏSİNDƏ BAKI MÜHƏNDİSLİK UNİVERSİTETİNDƏ TƏLİM KEÇİRİLİB
Bakı Biznes Universitetinin koordinatoru olduğu "Azərbaycanda Rektorlar Konfransının yaradılması" (ECAR) adlı Erasmus+ layihəsi çərçivəsində Bakı Mühəndislik Universitetində təlim keçirilib. Avropa Komissiyasının maliyyə dəstəyi ilə icra edilən layihəyə uyğun olaraq baş tutan təlimdə Təhsil Nazirliyinin və 16 tərəfdaş universitetin  nümayəndələri iştirak edib.
Tədbirdə açılış nitqi ilə çıxış edən BMU-nun rektoru, professor Havar Məmmədov qonaqları universitetdə görməkdən məmnunluğunu bildirib. Layihənin önəmindən danışan rektor əsas hədəfin Azərbaycanda ali təhsilin keyfiyyətinin yaxşılaşdırılması və Avropa təhsil sisteminə inteqrasiyası məqsədilə universitet rektorlarının fəaliyyətinin əlaqələndirilməsi olduğunu vurğulayıb. Ali təhsil ocağının rəhbəri layihənin yerli və Avropa universitetləri arasında əməkdaşlığın yeni formatlarını müəyyənləşdirilməsinə köməklik göstərəcəyinə əminliyini ifadə edib. Layihənin beynəlxalq əhəmiyyətinə və ali təhsil müəssisələrinin inkişafına verəcəyi töhfələrə də toxunan Havar Məmmədov Rektorlar Konfransının Azərbaycan ali təhsil müəssisələrinin beynəlxalq aləmdə təmsil olunmasına zəmin yaradacağını fikirlərinə əlavə edib.
Layihənin koordinatoru olan Bakı Biznes Universitetinin rektoru, i.e.d.,professor İbad Abbasov Rektorlar Konfransı vasitəsilə universitetlər və digər tərəfdaş qurumlar arasında milli şəbəkə və əməkdaşlığı inkişaf etdirməyin vacibliyindən danışıb. O, xarici təcrübələrdən istifadə edərək Azərbaycanda Rektorlar Konfransının yaradılması istiqamətində görülən işlərdən bəhs edib.
Təhsil nazirinin müşaviri Nicat Məmmədli təşkil olunan təlimin əhəmiyyətini vurğulayıb, layihə çərçivəsində görülən bütün fəaliyyətlərin yerli universitetlərin təhsil proqramlarının beynəlmiləlləşməsinə və universitetlərin rəqabət qabiliyyətinin yüksəldilməsinə əsaslı dəstək olacağını bildirib.
Tədbirə onlayn formada qatılan Mərkəzi Oklahoma Universitetinin Transformativ Tədris və Təlimdə Mükəmməllik Mərkəzinin icraçı direktoru Jeff King "Transformativ tədris və öyrənmə" mövzusunda məruzə ilə çıxış edib. Bildirib ki, son 10 ildə həm cəmiyyətdə, həm tələbə strukturunda, həm də akademiyada çox böyük dəyişikliklərin olması səbəbindən yeni üsulları axtarmaq vacibdir. O, bu prosesdə mühüm məsələnin transformativ təlimin tədrisi metodları olduğunu söyləyib. Transformativ tə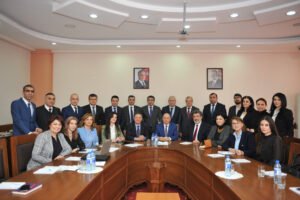 dris və öyrənmədən danışan Jeff King diqqətə çatdırıb ki, tədrisdə məlumat verməklə öyrətmək əsas götürülür, öyrənmədə isə tələbələrin informasiyanı necə mənimsəməsi və istifadə etməsi daha vacib hesab olunur.
Daha sonra "Dəyişikliklərin idarə edilməsi – transformasiyalı tədris və öyrənmə" mövzusunda işini davam etdirən təlim Ali Təhsildə Keyfiyyət Təminatı Agentliklərinin Mərkəzi və Şərqi Avropa Şəbəkəsinin (CEENQA- Central and Eastern European Network of Quality Assurance Agencies in Higher Education) vitse prezidenti Olgun Çiçek tərəfindən aparılıb. Təlim zamanı ali təhsil müəssisələrində keyfiyyət təminatının tələbləri, təhsil proqramlarının beynəlmiləlləşdirilməsi, dərs proqramlarında keyfiyyət təminatı, beynəlxalq akkreditasiya və onun gələcək perspektivləri, modular akkreditasiya barədə ətraflı məlumat verilib və qeyd olunan məsələlər ətrafında geniş müzakirələr aparılıb.