EU PROJECT PRESENTATION HELD IN BAAU
The next event within the framework of the European Union's Erasmus + program project "Establishment of Rectors' Conference in Azerbaijan" was held at Baku Eurasian University. The event was dedicated to informing the staff of Baku Eurasian University about the project. Speaking about the work done so far, BAAU Vice-Rector for International Relations Sayavush Gasimov highlighted that the project supports the development of higher education, building and developing cooperation between universities. Eshgin Bayramov, Vice-Rector for International Relations of Baku Business University, spoke about the general goals, objectives, and work plans of the project, as well as local and foreign partners. At the same time, E. Bayramov spoke about the purpose, stages, and methodology of research activities carried out within the project. He said the main goal of the project is to have a positive impact on the quality of education and deepen integration into the European education system by developing comprehensive cooperation between universities in accordance with national development strategies.  Project Manager Gulshan Bayramova made a presentation on the goals and objectives of the project. In her presentation she emphasized the establishment of the "Rectors' Conference" with the participation of university rectors will assist to solve the problems of higher education.
She said that the public discussions with the participation of educational experts will contribute to the identification of problems related to higher education and their solution, will create an opportunity to exchange experience, and share successful results. G. Bayramova informed the participants that the establishment of a public association of rectors will help to further improve the quality of education.  She noted that we expected serious progress in solving issues, such as ensuring continuity between two-level higher education, successful and full implementation of the credit system, strengthening control over the quality of education, recognition of specialties and diplomas in Europe, employment of graduates, and so on. We expect serious progress in resolving the issues. "In order to ensure all this, it is necessary to coordinate the activities of the higher education institutions operating in our country first of all. Together we can overcome problems (challenges) of higher education. At the same time, we can apply the modern education system in the leading countries of the world in a more successful way in our country, and we can achieve good results" – G. Bayramova said at the end.
Vice-Rector for Academic Affairs of Baku Eurasia University Nigar Huseynova, Vice-Rector for Scientific Affairs Gulzar Ibrahimova, Project Manager of the University, and Head of the Department "Translation' Sevda Rzayeva also shared their views.
It should be noted that the project will be implemented over three years. During this period, it is planned to implement a rich action plan and achieve significant results in the development of higher education. The project coordinator is Baku Business University.
BAAU-DA AVROPA BİRLİYİNİN LAYİHƏSİNİN TƏQDİMATI KEÇİRİLİB
Avropa Birliyinin Erasmus+ proqramı çərçivəsində həyata keçirilən "Azərbaycanda Rektorlar Konfransının yaradılması" layihəsi çərçivəsində növbəti tədbir Bakı Avrasiya Universitetində keçirilib. Tədbir Bakı Avrasiya Universitetinin əməkdaşlarının həyata keçirilən layihə barədə məlumatlandırılmasına həsr olunub. Giriş sözü ilə çıxış edən BAAU-nun Beynəlxalq əlaqələr üzrə prorektoru, dosent Səyavuş Qasımov indiyədək görülən işlər barədə danışaraq deyib ki, ali təhsil müəssisələri arasında icra edilən "Azərbaycanda Rektorlar Konfransının yaradılması" layihəsi ali təhsilin inkişafına, universitetlər arasında əlaqələrin qurulmasına, əməkdaşlığın inkişaf etdirilməsinə dəstək verməkdədir.
Bakı Biznes Universitetinin Beynəlxalq əlaqələr üzrə prorektoru Eşqin Bayramov isə layihənin ümumi məqsədi, hədəfləri, iş planları, eləcə də yerli və xarici tərəfdaşları barəsində məlumat verib. Eyni zamanda E.Bayramov layihə çərçivəsində aparılan tədqiqatların məqsədi, mərhələləri və istifadə edilən metodologiya haqqında danışıb. O, layihənin həyata keçirilməsində əsas məqsədin milli inkişaf strategiyalarına uyğun olaraq rektorlar konfransı vasitəsilə universitetlər arasında hərtərəfli əməkdaşlığı inkişaf etdirməklə təhsilin keyfiyyətinə müsbət təsir göstərmək və Avropa təhsil sisteminə inteqrasiyanı daha da dərinləşdirmək olduğunu bildirib.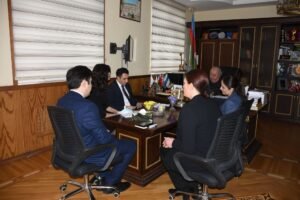 Layihə rəhbəri Gülşən  Bayramova layihəyənin məqsəd və vəzifələri haqqında təqdimatla çıxış edib. O çıxışı zamanı universitet rektorlarının iştirakı ilə təsis ediləcək "Rektorlar Konfransı"nın yaradılmasının ali təhsilin problemlərinin həllinə yardım göstərəcəyini vurğulayıb. Bildirdi ki, təhsil mütəxəssislərinin iştirakı ilə keçirilən ictimai müzakirələr ali təhsilə aid problemlərin müəyyənləşdirilməsinə və onların həllinə töhfə verəcək, təcrübə mübadiləsinə, uğurlu nəticələrin bölüşdürülməsinə və paylaşılmasına imkan yaradacaq.
G.Bayramova rektorlardan ibarət bir ictimai birliyin yaradılmasının təhsilin keyfiyyətinin daha da yaxşılaşdırılmasına kömək edəcəyini tədbir iştirskçılarının diqqətinə çatdırıb. O deyib ki, biz ikipilləli ali təhsil arasında kəsilməzliyin təmin olunması, kredit sisteminin uğurlu və tam şəkildə tətbiqi, təhsilin keyfiyyətinə nəzarətin gücləndirilməsi, ixtisasların və diplomların Avropa məkanında tanınması, məzunların işlə təminatına nail olunması və s. məsələlərin həllində ciddi irəliləyiş gözləyirik. "Bütün bunların təmin olunması üçün ölkəmizdə fəaliyyət göstərən ali təhsil müəssisələrinin özlərinin fəaliyyətinin ilk növbədə əlaqələndirilməsinə ehtiyac vardır. Ali təhsildə olan çatışmazlıqları birlikdə aradan qaldıra bilərik. Eyni zamanda, dünyanın qabaqcıl ölkələrində olan müasir təhsil sistemini hamılıqla daha uğurlu şəkildə ölkəmizdə tətbiq edər, yaxşı nəticələr əldə edə bilərik" – G.Bayramova sonda bildirib.
Bakı Avrasiya Universitetinin Tədris işləri üzrə prorektoru, dosent Nigar Hüseynova, Elmi işlər üzrə prorektor, professor Gülzar İbrahimova, layihənin universitet üzrə meneceri, "Tərcümə" kafedrasının müdiri, dosent Sevda Rzayeva da çıxış edərək öz fikirlərini bölüşüblər.
Onu da qeyd edək ki, layihə üç il ərzində həyata keçiriləcək. Bu müddət ərzində zəngin tədbirlər planının həyata keçirilməsi və ali təhsilin inkişafı istiqamətində əhəmiyyətli nəticələrin əldə edilməsi nəzərdə tutulub. Layihənin koordinatoru Bakı Biznes Universitetidir.